Top Doctors Of Vadodara
Click2Cure Mobile app has 30+ Top Super Specialists and Specialist Doctors in Medicine, Surgery, ENT, Cardiology, Gastro, Gynecology, Neurology, Pulmonologist, Eye Specialist, Orthopedic, Dentist and many more branches. – they are all well experienced Doctors based in Vadodara. They will be available now on just few clicks through C2C !
Our platform collaborates with Top Clinics, Hospitals, Labs, Radiology Centers. Get your service registered with us now.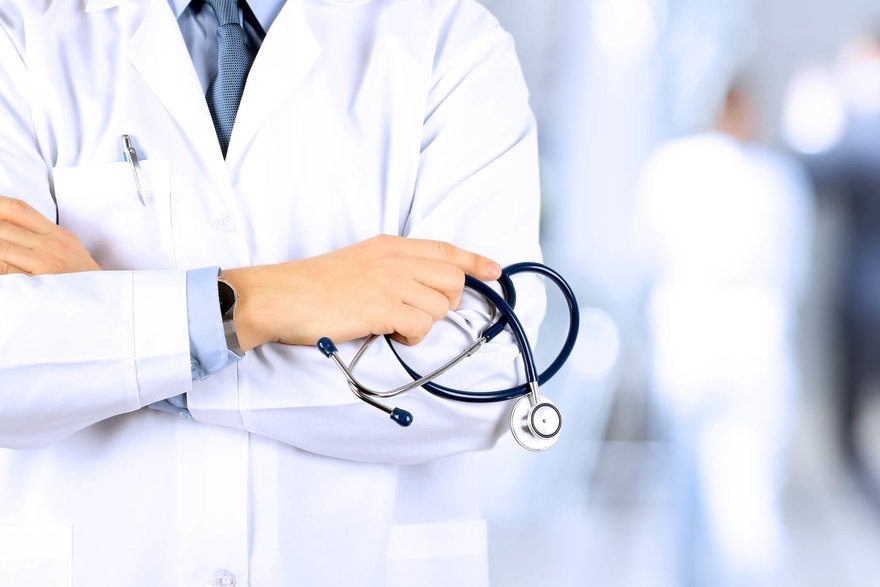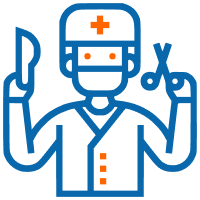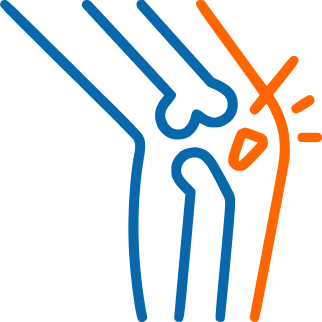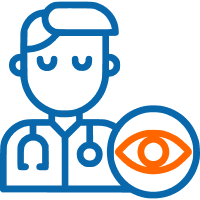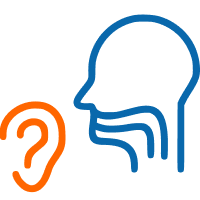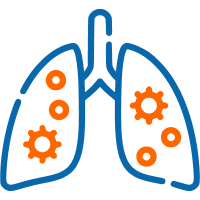 Click2Cure Surgery – Book your surgery on one Click 
Get your FREE surgery consultation through our app – for 10+ pre-planned surgeries from Vadodara's top surgeons and at best set ups.
In-person and online consultation with experienced surgeons.
Vadodara's best set ups guaranteed.
Our medical assistance throughout your treatment.
Best Surgery Package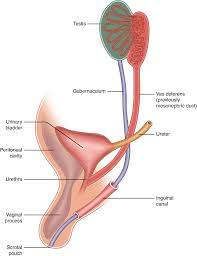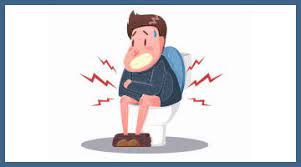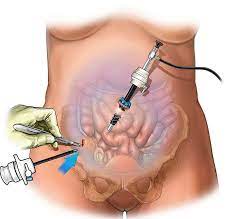 Our Health Check Packages
Timely medical checkup helps in ensuring that your health is in track and detect any early signs of medical conditions that may be life-threatening in the long run. Early diagnosis through a full body checkup increases your chances of effective treatment and cure. It also helps in reducing heavy medical expenses in the future. Get your health check up packages on just a click away.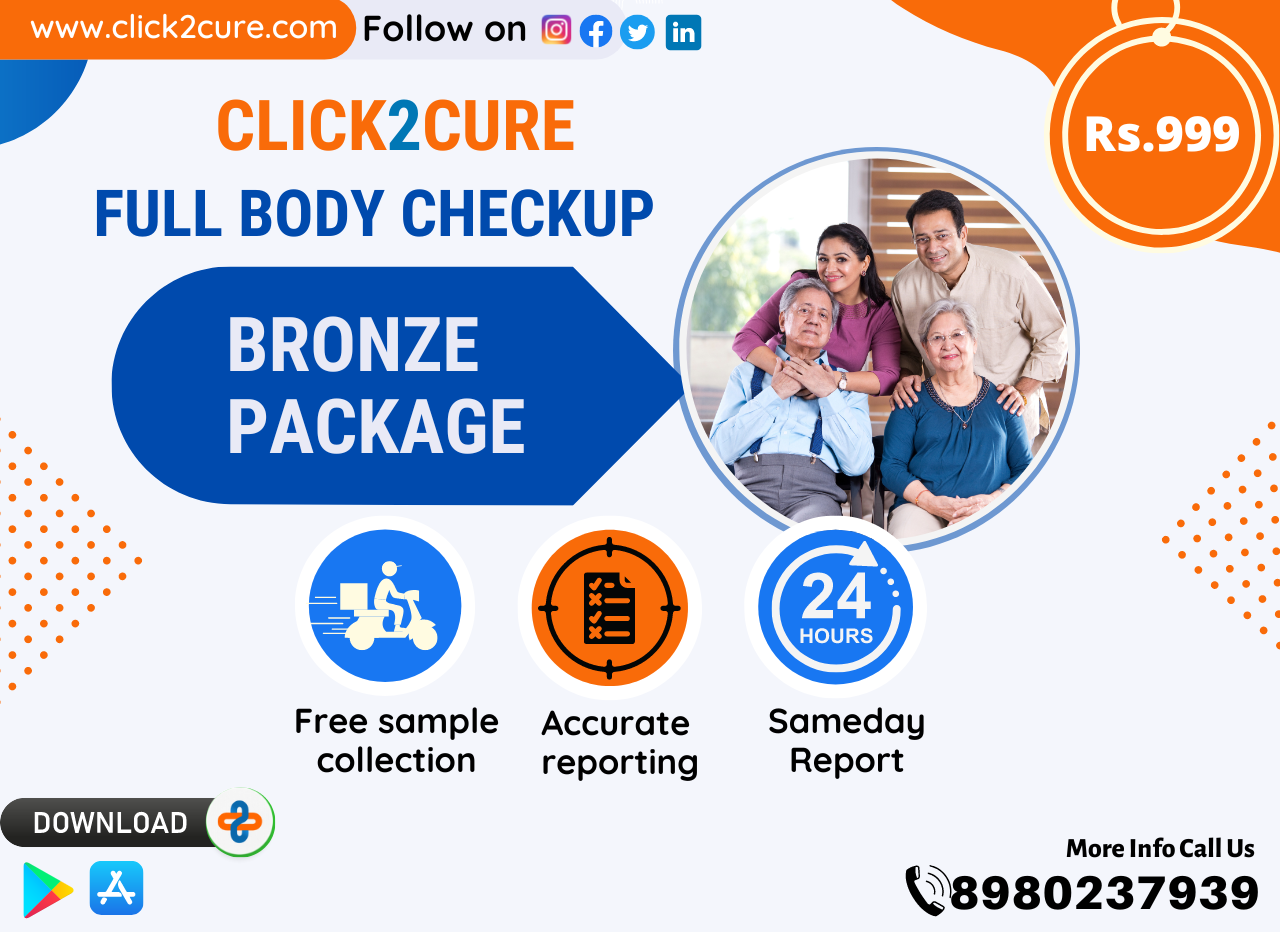 Include all basic investigation with full lipid profile, thyroid.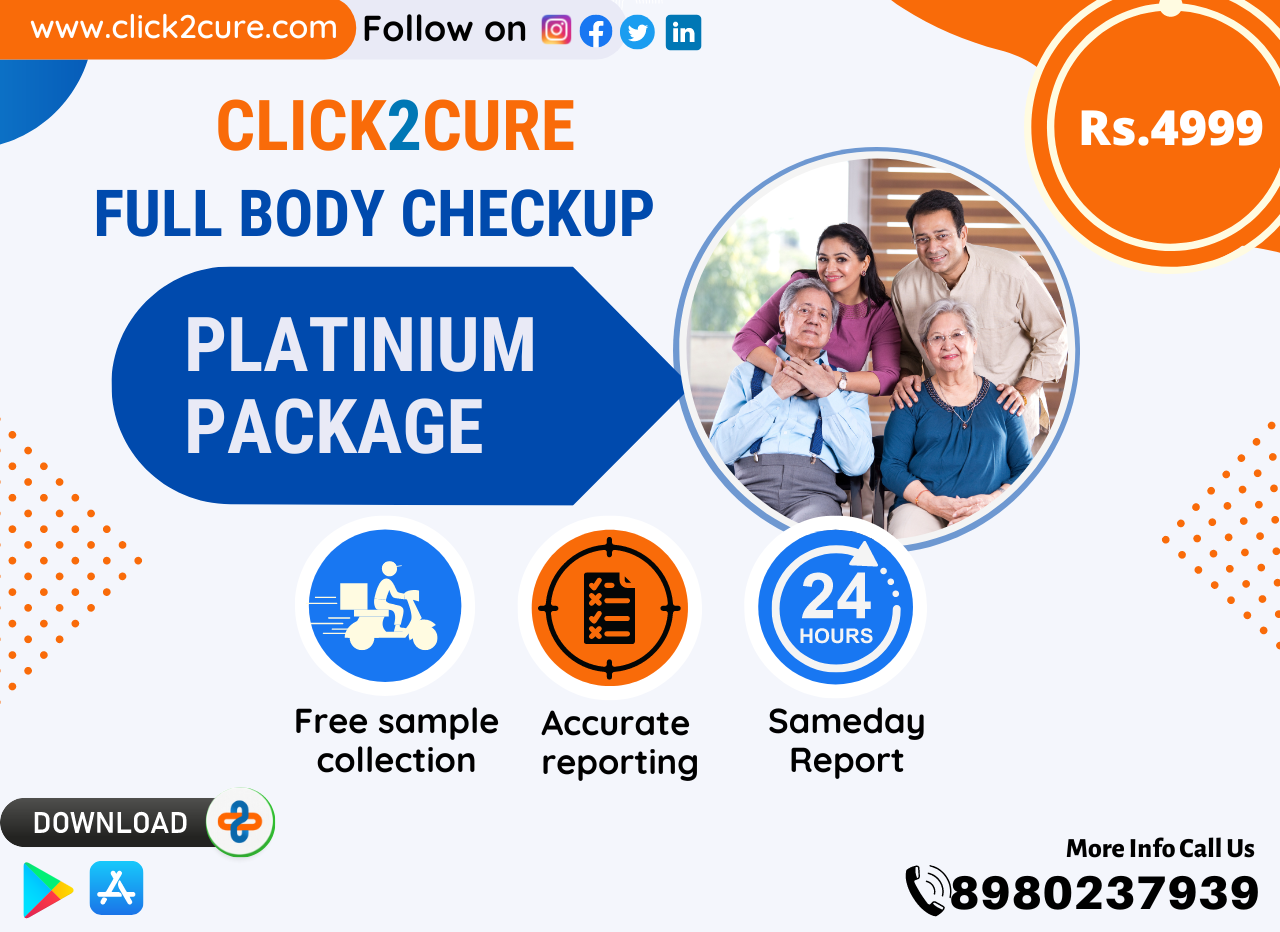 Prevention is better than cure! This pack assesses every recommended for 60+ age groups and is the highest return on investment you can get on your health. Doctors recommended health checkup to be done every 6 months.
Advanced Full Body checkup With Cancer Screening package for Man or Woman 60+ Age.
Recent Articles
Get updated with up to date with the medical information. Learn more about top medical conditions reviewed by the best doctors.
What is Click2Cure ?
We have experienced Doctors, Labs and Radiology Centers. All Clinics, Labs, Radiology Centers and Hospitals are local to your city. You have to select a specialty, choose a doctor, and enter your details to consult with them online or offline. You can also book lab tests, health check ups, Radiology Centers on your health condition. A doctor's qualification, experience, and records are taken into account before being credentialed with C2C to give medical advice to our patients.
How home collection of Lab tests can be done ?
Once you book Lab tests through our app, the selected lab will be notified. The selected lab person will come to your home at designated time by following Covid 19 protocols. The medical professional who will visit your home to collect your sample will be checked for symptoms and will be in protective gear including gloves and masks. The containers used for the samples will also be thoroughly sanitised on a regular basis.
How can health check ups be booked ?
With the help of C2C, you can book full body health checkups, condition-based health packages and lifestyle-based health packages at your nearby Hospitals and Wellness centers. Our condition-based health packages assess the health of a particular organ or condition like thyroid, diabetes, liver function and kidney function. In addition to these, we perform tests for lifestyle-related issues, like stress assessments, alcohol risk assessments, smoker's risk assessments, and allergy tests, vitamin profiles, and obesity risk tests.
Is C2C responsible for any Medical Advice or any Lab/Radiology test ?
C2C is a healthcare aggregator platform for healthcare professionals. C2C does not abide by any health care advice, check up reports or guidance given by any Doctors/Labs/health care workers through C2C. It will be 100% Doctors / health care worker's responsibility for the advice given to patients.
If I am visiting Doctor again then how to book an appointment ?
You can search that Doctor or find the same Doctor from your previous Appointment list. You can again book the same Doctor's appointment by selecting "Old Case" appointment.
Where do all Lab reports or Radiology reports come from ?
In our C2C app, once the report is ready you will get notified and the report will come to your app only.
Is C2C secure ?
C2C platform follows all security guidelines defined by the Government of India. We are in agreement with Doctors, Labs and Radiology centers to have their Patient's privacy. We do not save Medical prescriptions or offer Pharmacy to Patients. We are just an aggregator platform in Health Care.